How Turkish Mosaic Globes are Crafted
Hey! Fiona here with Wishicious.

If you've already ordered one of our many absolutely delightful Mosaic Turkish Mosaic Globes, you've had the pleasure of seeing their intricate craftsmanship firsthand.

If you haven't experienced the Mosaic Globes yet, you're really missing out.

Although you do get what you see in the pictures, each one has their own unique flair due to the way they're crafted.

Either way, I thought it would be interesting to share with you the process of how our Handmade Turkish Mosaic Globes are fabricated.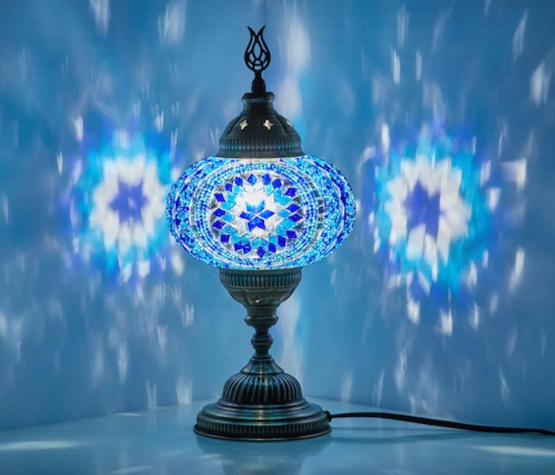 Probably the most interesting thing to me when it comes to the process is that there is almost no mechanization involved. Each part of the lamp, down to each piece of stained glass is fabricated from scratch. This is what truly makes each lamp a work of art.

Although I can't delve into our exact secrets as to how we make them so wonderfully, I can break down the basic process below...
Large sheets of handmade glass are stained different colors. From this large sheet, individual sections are hand cut from these sheets. Each piece is cut with intention and precision.


The base of clear glass that houses the bulb is hand blown and then prepared to fuse with the individual pieces of cut glass from Step 1. 


The artisan lays out the design on the clear glass to ensure that the final production mirrors the intended design.


A clear & permanent slow-drying adhesive is applied to each individual section, one piece at a time until the clear glass is completely covered. There are spaces left between each piece intentionally to give the globe it's unique character




The artisan allows his new work of art to dry & settle.


Once the artisan determines that everything has settled, he then applies a special cleaning solution to the globe and rubs it vigorously many times over to remove and excess bonding paste and ensure quality.


The globe is then attached to a lathe and the artisan runs a wire wheel across the globe until all imperfections or sharp protruding pieces of glass are removed. This is only part of the process that includes mechanization.


Now that the globe is finished, the artisan attaches it to it's hand-crafted bronze components to form a lamp, chandelier, or one of the many other Turkish decorations we offer.
----------
This process has changed very little over the many generations that it's been passed down from.

Our Turkish globes are truly one-of-a-kind works of art, and we are proud of every item we ship out.

Thanks for reading! Let me know what you think in the comments :)

Fiona
Author
Wishicious
P.S. Our extravagant Handmade Turkish Mosaic Lamp with 7 Globes is 42% Off for a limited time.

Bring this elegant work of art into your home and marvel in it's beauty & craftsmanship.